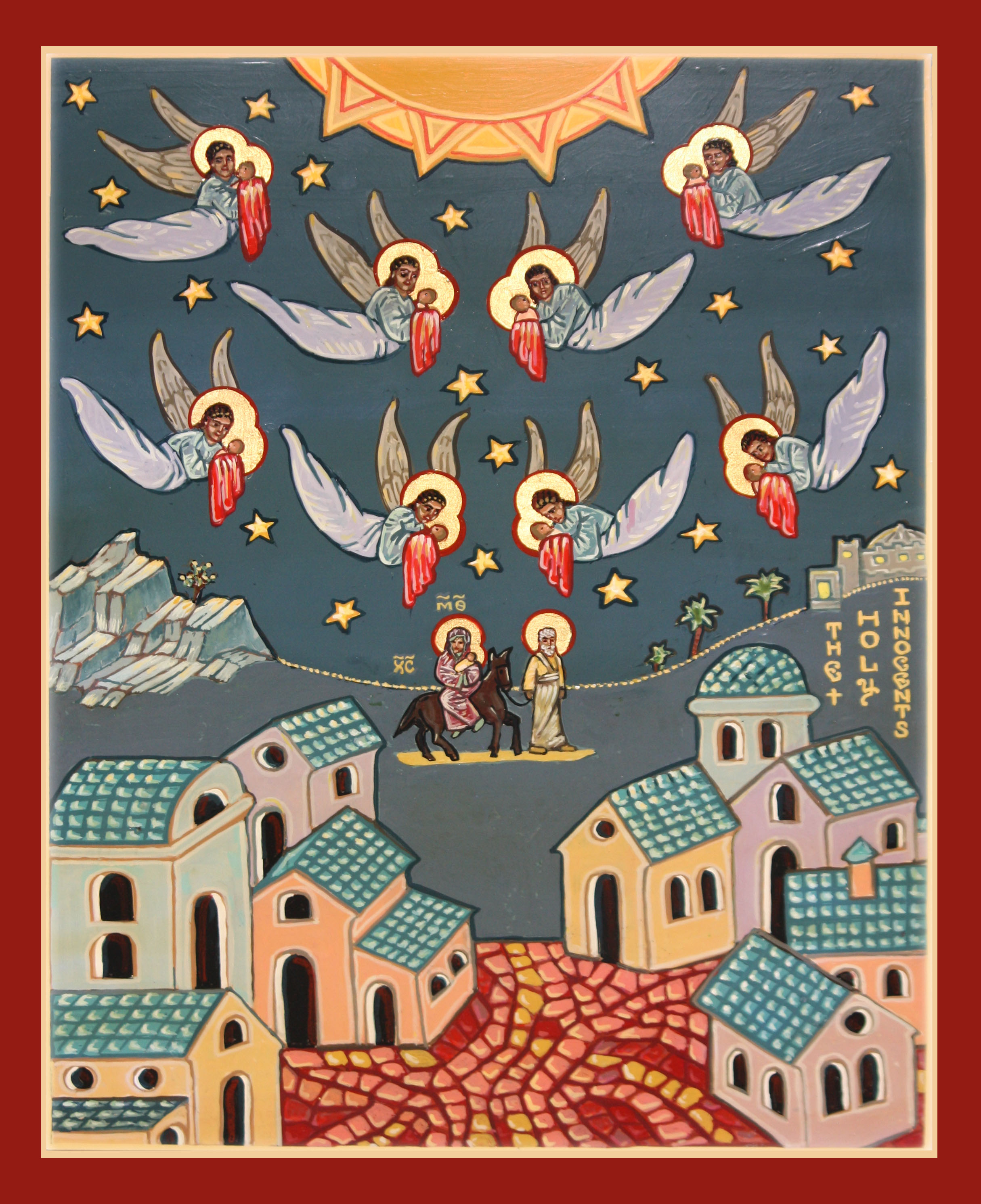 The tragedy of children losing their lives to violence and cruelty is not just found in fairytales. We find them in the newspapers most every day, and for us Christians, violence casts a shadow on the birth of the God-child Jesus into our world. In the massacre of the children of Bethlehem who died in place of the newborn child of God, we not only have a vivid reminder of the violent world into which Jesus was born, but we also are reminded of the violent world we live in today. The name of our own church – Holy Innocents' – a constant reminder. In the state of Georgia this year, the Office of Child Advocate suggests that of the 1700 – 1800 estimated deaths of children (0 – 17 years of age), 600-700 of these deaths will require special investigation due to neglect and abuse.
In 2010, our rector Michael Sullivan commissioned Suzanne Zoole, a writer of iconography, to write a Holy Innocents' icon. The icon features a village scene where the doors of the homes are open but they are dark inside, as if after a massacre. Instead of martyred children lying on the ground of the village square, the innocent rest in the arms of angels rising heavenward. The heavens are filled with golden stars indicating the resurrected life. At the center of the icon is the God-child Jesus with Mary and Joseph escaping to Egypt.
The icon is a part of a larger ministry at Holy Innocents'. Annually, we host the Feast Day of Holy Innocents extending to the community an invitation to a requiem service. At that service we remember the innocent children who have lost their lives to violence and neglect in Georgia during the year.
As Holy Innocents' church, are the Living Body of Christ where these blessed children, often forgotten and lost, are remembered and the reconciling love and grace of God is proclaimed. The icon will be a part of our new building. People can come and pray for the souls of all the innocent children who have lost their lives to violence. It is our way to proclaim that evil in this world does not prevail. It is our way to proclaim that the victory comes from God through the Prince of Peace, Jesus the Child of God, whose resurrection from death to life is the victory of God's grace, love, and compassion granted us, and given us to proclaim.